Summary
An off-grid sustainable property requiring environmentally friendly heating and hot water system for a new yoga studio.
Air Source Heat Pump (5kw)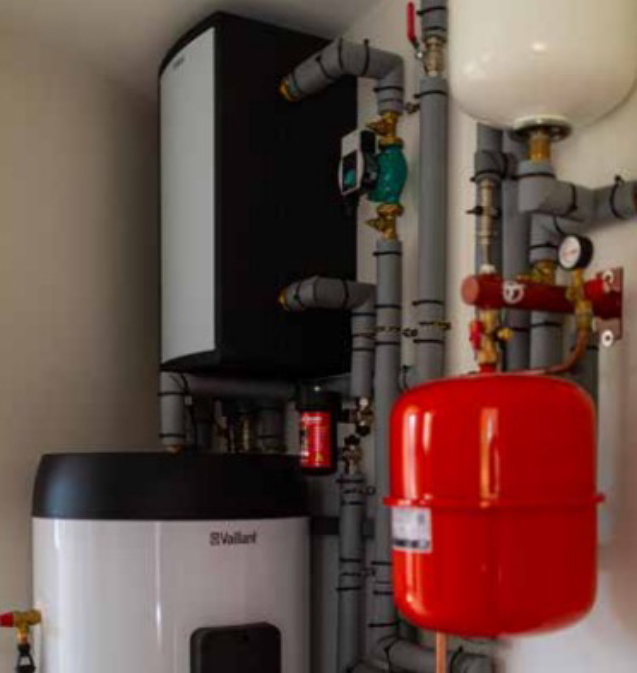 Background
Because the building was going to be mainly used as a yoga studio, the customer specifically wanted a quiet heat pump. She was also keen to use a low-carbon solution to keep the building warm and provide hot water to serve the shower and kitchen facilities. This meant that traditional fuel sources for off-grid areas such as oil and LPG were out of the question. Occupancy levels would vary in the building depending on when classes were on, so it was also crucial to design a system which would enable the heat pump to deliver the energy savings expected.
Solution
Indigo Renewables worked in partnership with Vaillant to offer the aroTHERM plus heat pump as an optional extra for their customers. With sound power as low as 54 dB, this solution fitted the bill perfectly, helping to uphold the yoga retreat's tranquil surroundings.
To ensure that the aroTHERM plus would deliver high levels of energy efficiency for the customer, a Vaillant 45l buffer tank was also included in the system. This set-up allows the heat pump to run for extended periods of time to charge up the buffer, from which the underfloor heating draws its heat as and when needed.
To give the customer full control of their heating system, a Vaillant VRC 700 was specified to schedule when the heat pump comes on to heat up the buffer and produce hot water. With its weather and load compensation features, it can check the external and internal temperatures and tells the heat pump how much energy is required to reach the right comfort levels without wasting any energy to get there.
"This was the first time we have installed the aroTHERM plus. The technical assistance from Vaillant has been excellent, helping us to make this eco-development a reality for the customer every step of the way"
Christian Ford, Director,
Indigo Renewable Energies