Vaillant: Rivermead House
(Social Housing)
Summary
54 residential flats in an off-gas grid location with expensive and ageing electric storage heaters, using air source heat pumps as a solution.
Air Source Heat Pump (5kw)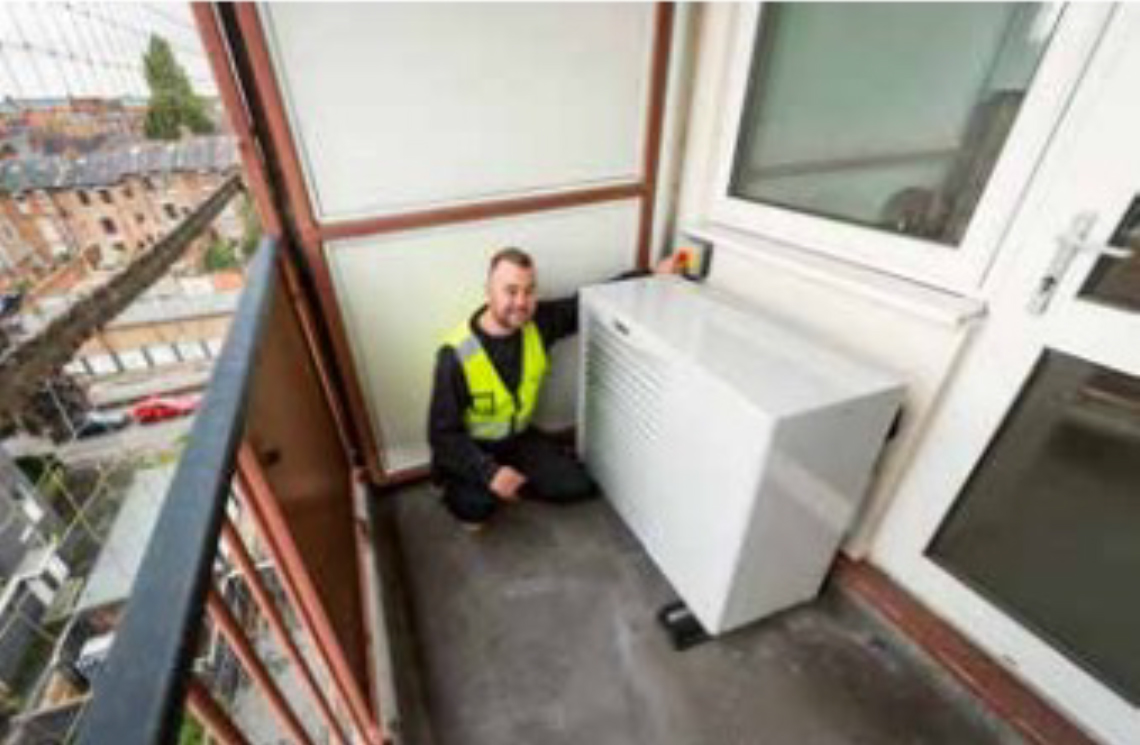 Background
Derby Homes is an arm's length management organisation (ALMO) created by Derby City Council to manage, maintain and improve its social housing. Having undergone a process of assessing all the properties in its portfolio, Rivermead House was identified as requiring a more efficient heating system to reduce carbon emissions and lower fuel bills for tenants. The organisation initially considered running a microdistrict heat pump, using energy from the ground or the local river. A solution which could be easily installed with as little disruption for tenants as possible, at an affordable price, was needed.
Solution
Upon surveying the site, the Vaillant team immediately recognised that the balconies of each flat would be an ideal space to house an air source heat pump. Each flat was installed with its own aroTHERM 5kW air source heat pump, VRC 700 weather compensating system control and a 150-litre slimline hot water cylinder. Costs were successfully kept to a minimum, with each flat fitted for £6,000 – a huge 30 per cent saving against a comparable quote.
Tenants have seen a huge reduction in their fuel bills. With the previous storage heating system, the average energy consumption of 13068 kwh equated to costs of around £1,250 a year. With aroTHERM heat pumps in place, bills have been slashed to £730 per annum, providing a typical saving of £520 a year per household.
The installation also means that Derby Homes can take advantage of the domestic Renewable Heat Incentive (RHI).
"Thanks to Vaillant's help throughout the process, the feedback and support of the tenants has been excellent, there have been no problems whatsoever. The new heat pump systems are a major improvement on the electric storage heaters, and now the residents can enjoy affordable control of their heating throughout the entire flat"
David Pickering,
Gas Supervisor, Derby Homes