Daikin: Hafod Caves, Wales
Summary
After living with the oil system through one winter, new owners Greg Brash and Tim Dean opted for a cleaner and quieter renewable solution to secure their future heating needs.
Air Source Heat Pump (16kW)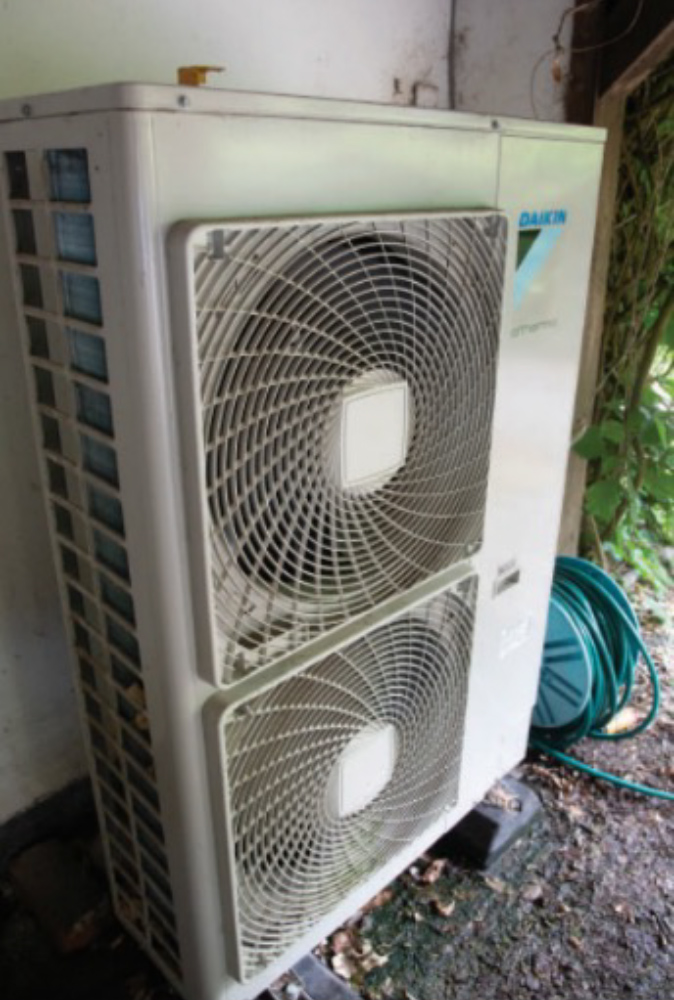 Background
The 160m2 cottage consists of a double storey core building with two bedrooms and a bathroom over the kitchen, entrance hall, and a third bedroom. Beyond the kitchen is a living/dining room, leading to a more formal lounge. An extension at the other end of the core provides an annex bedroom with shower.
Key issues for the new owners of Coed y Glyn Uchaf – a cottage in a remote Denbighshire valley – were not just the noise and poor efficiency of the oil-fired heating system, but also uncertainty over the fluctuating price of oil and a keen desire to move away from fossil fuel energy and towards renewable sources.
Solution
They now have a Daikin Altherma High Temperature air-to-water heat pump that's largely powered by solar energy. This fuel-saving combination is reckoned to save them at least £700 a year – and that's before domestic Renewable Heat Initiative payments.
Oil tank and boiler have gone and in their place stand a 16kW outdoor unit and the indoor hydrobox. The outdoor unit extracts heat from the air, steps it up via the primary R410A refrigerant and transfers it to the hydrobox. Using Daikin's Cascade technology, the secondary R134A refrigerant circuit raises the temperature further, enabling the system to deliver up to 65°C to satisfy peak demands for heating and domestic hot water.
Daikin promotes its Altherma High Temperature system as an ideal solution for home renovation and boiler replacement. Its compact design means minimal installation space, and the system integrates seamlessly with existing piping and radiators. With A+ energy efficiency and fast heat-up times, the system ensures comfort and reliability, even when it's below zero outside.
We're really pleased with it. The system does exactly what it's supposed to do and is so much cheaper. There's even an app so we can control the heating from our phones from anywhere in the world.
Homeowner