NIBE: 

University of West London
Summary
With aspirations to retrofit its main sites, £5 million in funding unlocked a major opportunity to improve air quality around the borough whilst taking a big step towards meeting its net zero pledge by 2030.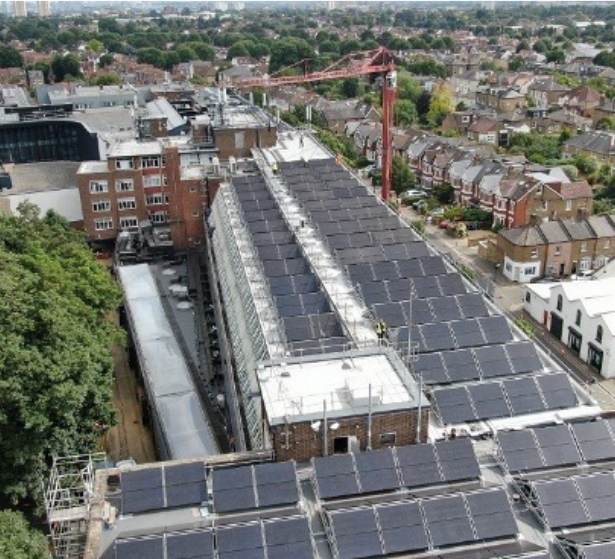 Background
UWL contracted Ameresco as principal contractor and designer, who partnered with NIBE Energy Systems and JKN Renewables, Ltd. The first and main challenge was to design a ground source heat pump (GSHP) system for the university without disrupting the main car park on the campus to reduce the impact on students. This, in turn, resulted in an innovative solution, combining a ground source heat pump system working with boreholes and solar PVT panels. The designed system not only supplies 222 kW of PV electricity generation but, crucially, acts as a collector system for the GSHP, capturing naturally occurring energy in the air to drive the heat pump process, and therefore reducing the number of boreholes required. The old gas boilers previously heating the campus were replaced with 584 solar PVT panels in combination with 34 169-meter boreholes to provide 900 kW of heating and hot water throughout the site.
Results
This transformation really highlights the benefits of combining multiple technologies to deliver efficient, low-carbon solutions. Whilst the full capacity could have been delivered using boreholes, which would have been a less costly option, the University welcomed the installation of PVT as an innovative and space-saving option.
The major project will save an estimated 500 tonnes of carbon each year, and 9,460 tonnes across the equipment's lifetime. It will also save 3,116,738 kWh of gas-derived energy per year (equivalent to 70 heated homes) whilst improving local air quality.
The project is thought to be one of the world's largest PVT projects, and positions UWL as a leader in higher education for addressing the climate crisis. The project was recognised by the Energy Managers Association's (EMA) Energy Management Awards, receiving the Highly Commended designation in the Decarbonisation Project Category.
"A big step to meeting our net zero by 2030 pledge, has been our decarbonisation program, that has seen the university harness the latest renewable technology to create our own energy and introduced energy saving measures across the campus. Backed by more than £5 million of Government funding, the project is the largest of its kind in the higher education sector, and really underlines our ambition to be one of the most sustainable universities in the UK."
Deputy Vice Chancellor