Grant: Property Renovation, Oxford
Summary
A large property in Oxford has updated its heating system, opting for a renewable solution featuring a Grant Aerona³ air source heat pump, a QR hot water cylinder and underfloor heating laid throughout the home.
Air Source Heat Pump (17kW)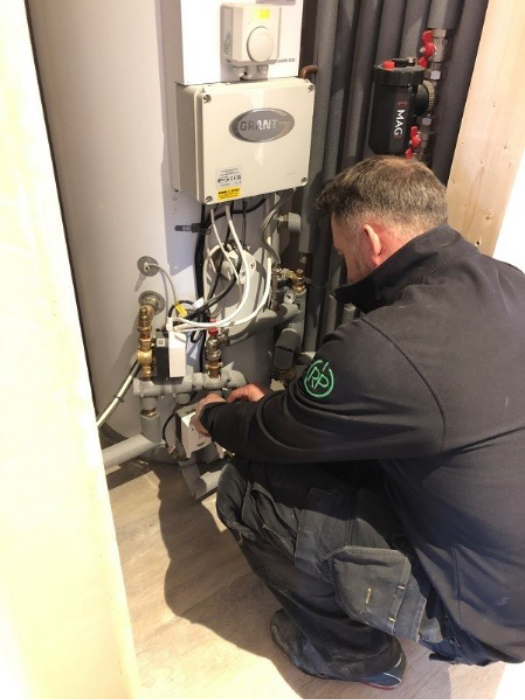 Background
In December 2021, a four bedroom, detached Oxfordshire home made the decision to upgrade its central heating system. The property had previously been heated by an oil boiler and the homeowners, who are passionate about the environment, wanted to make the change from oil and choose a low carbon alternative. Like so many consumers nowadays, the homeowner wanted the new system to be more sustainable so they looked into a renewable solution.
Problem
Their G1 installers, Busy Energy Ltd, were on hand to provide the advice and guidance they needed to select the most suitable system for their requirements. "The property was your typical "hard to heat" home," explains Adrian Liddell, Managing Director at Busy Energy Ltd. "The property had smaller pipework and radiators to suit a higher temperature fossil fuelled system which meant it was not possible to simply disconnect the boiler and re-connect a heat pump with the upgraded cylinder."
Solution
The system installed included an Aerona³ 17kW R32 air source heat pump which is the largest output available in Grant's heat pump range. Quiet Mark awarded, this 17kW model is a twin-fan unit that achieves excellent efficiencies while also being compact in design. Alongside the heat pump, Busy Energy Ltd also installed a new Grant QR 300ltr pre-plumbed cylinder which is ideally suited to complement the heat pump as it incorporates a large stainless internal coil which allows for efficient heat transfer within the cylinder. The QR cylinders also have a high level of insulation which ensures low standing heat losses.
"The heat pump is currently outperforming an oil boiler which is fitted in a neighbouring property which is also owned by our client."
Adrian Liddell,
Managing Director at Busy Energy Ltd