Daikin: Classic Cottage, Cornwall
Summary
A classic Cornish country cottage with its roots in the 17th century is undergoing a massive makeover to equip it for 21st century living in a heritage environment.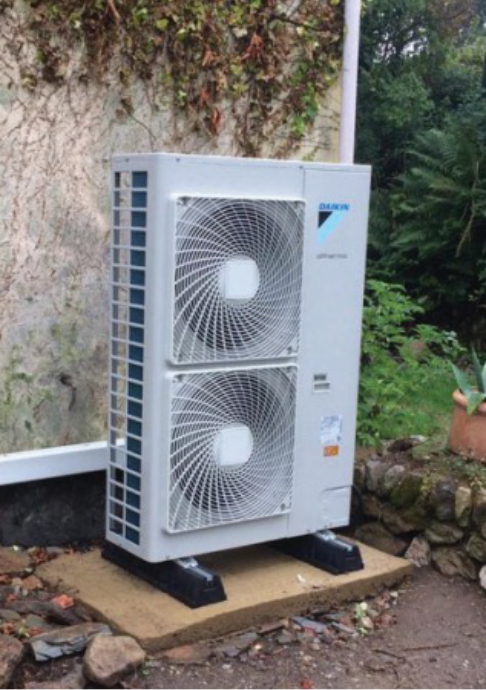 Background
Michael Hawes, the owner, says: "The property is formed from three old cottages knocked into one. It was liveable, but in a state of disrepair, so we are having to do a lot of renovation work to achieve what we wanted. The oil boiler was very old and we knew we would have to replace it. We didn't really want to go ahead with oil: we didn't like it and it's very expensive. This pushed us down the renewable energy route."
The owners were keen to invest in the right renewable heating solution to keep the house warm and produce long-term energy and carbon savings.
Solution
At the heart of the project is an upgrade from an oil-fired heating and hot water system to a Daikin Altherma high temperature heat pump, linked to a Sunamp heat battery. The new system, designed, installed and commissioned by Bodmin-based Abode Heat, not only promises an economical and environment-friendly heating system, but also a space-efficient source of 'instant' hot water. According to the installers, the system will reduce energy costs by more than £500 a year and will earn a Renewable Heat Incentive of £9,100 over seven years. In addition, annual carbon savings of 34% are estimated.
A heat loss survey confirmed the need for high-temperature heating – and a solution to the slow-running hot water. The Daikin Altherma High Temperature system selected includes a secondary refrigerant circuit, which provides the higher output temperatures needed in this kind of property.
"We accept that we're not like a modern super-insulated, super-sustainable house but we wanted to retain the character of what we always imagined we'd be living in – to accommodate our lifestyle but go as far as possible away from using non -renewable energies. We're really pleased we've done it."
Homeowner