Summary
Name: Helen Cooper-Altecnic
Project date: 19 April 2020
Brewham Lodge in North Brewham, Somerset is a small estate consisting of one main house, which dates back to the 17th century, and three 150-year-old cottages, together with several barns. Amber Heating of East Knoyle, Wiltshire were brought on board to modernise the heating system for the estate moving it from oil-fired heating to a ground source heat pump. Altecnic is the UK's leading supplier and manufacturer of hydronic solutions. Part of the Caleffi Group, our products serve a wide range of industry sectors such as merchants, OEMs, and specifiers, while complying with all UK and European legislation and standards.
The Brewham Lodge cottages were modernised 15 years ago but running on oil-fired heating, a costly heating solution with negative environmental impact.
GSHP & Heat Interface Units
Key objectives
To replace an old oil-fired system with the latest GSHP heating technology incorporating domestic hot water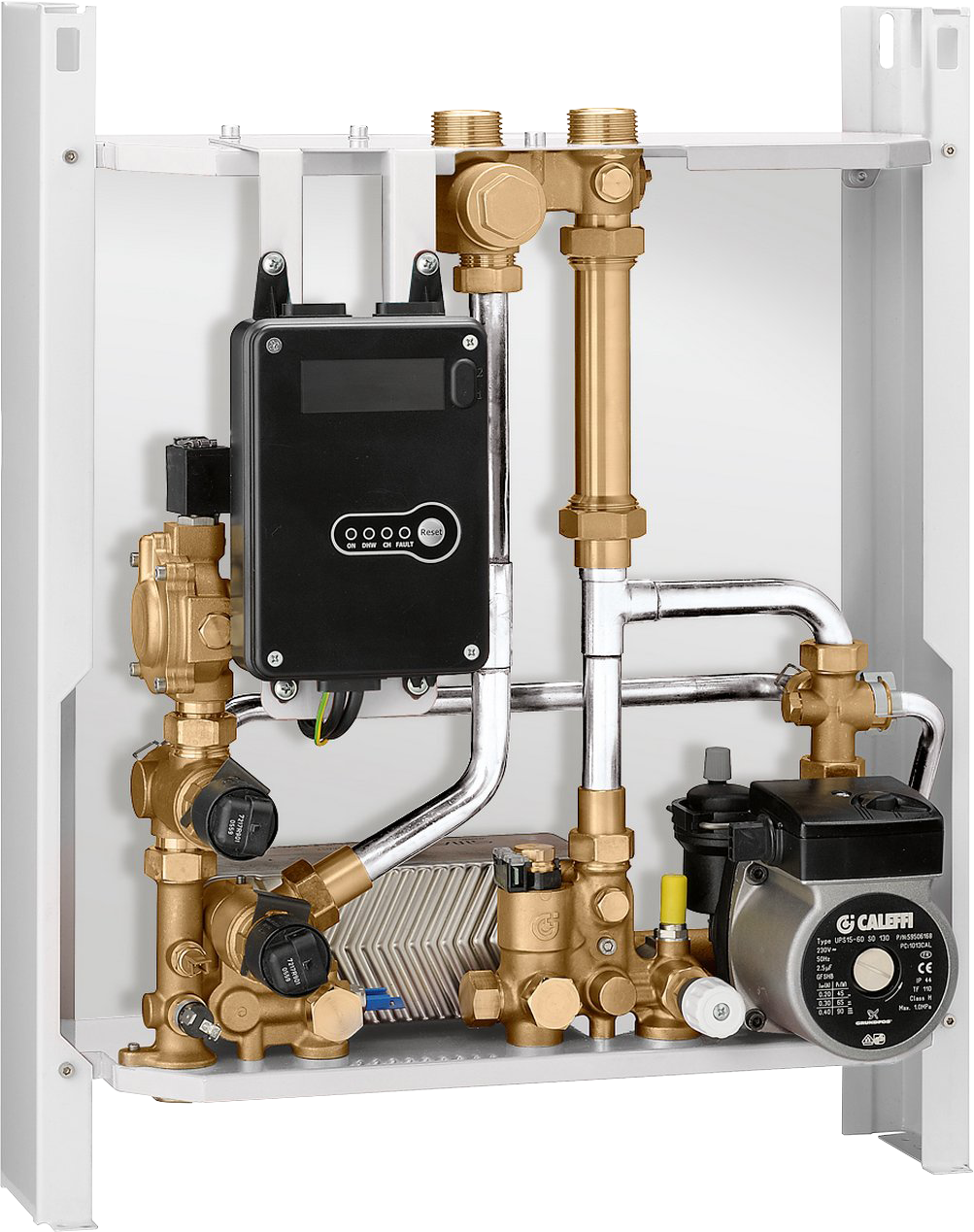 Background/description
The Brewham Lodge cottages were modernised 15 years ago but running on oil-fired heating, a costly heating solution with negative environmental impact. Amber Heating approached Altecnic to advise, design and develop an effective heat network running off a ground source heat pump, that would meet the requirements of residents and provide a high quality, reliable and energy efficient solution appropriate for 21st century living. Simplicity, as well as cost and energy efficiency, were at the heart of this project, with the aim of creating a modern-day instant, streamlined solution to their heating through a district heating network.
Solution
Altecnic consulted with Amber Heating regularly throughout the project to understand the limitations on the design and implementation to ensure the heat network configuration overcame any concerns or challenges.
Altecnic calculated the typical flow and return temperatures that could be achieved and showed the benefits of instantaneous DHW generation over a more traditional stored DHW solution. As a ground source heat pump installer, this was the first time Amber Heating had used HIUs and therefore benefited from Altecnic's continued advice and expertise throughout the project.
It also provided its Heat Network Bypass control modules to minimise bypass flow and increase network efficiency at times of low demand.
Challenges
The original concept was to integrate domestic hot water (DHW) storage within the network. In the majority of cases, DHW storage has negative effects on the efficiency of a heat network. Altecnic recommended the removing of the DHW storage and showed that the DHW requirements could be met by the SATK20307 HIU, that has been specifically designed for heat pump led networks with low primary flow temperatures.
Results
The advice and solution that Altecnic provided resulted in many benefits to its client, Amber Heating, as well as the end users.
The HIUs installed provide instantaneous domestic hot water and control the space heating, whilst taking up minimal space within the cottages. Now that the network is operational, the fuel saving versus the old oil heating is considerable as well as the subsequent reduction in the buildings operational carbon footprint. Previously it was costing around £1200 a year in fuel per cottage. Now the year-on-year savings are so influential that tenants aren't being asked to pay anything by the landlord! Considering the overall product lifespan and a highly beneficial 6.7 year Renewable Heat Incentive payback period, the projected return on investment is a staggering £306,118.
"As ground source heat pump specialists, we were new to the world of HIUs but wanted to provide a more efficient approach than stored hot water.  "We hadn't worked with Altecnic before, but the team offered excellent specialist advice from the start and were able to provide the high quality and efficient systems we needed to deliver the best solution.  "Using the latest heating technology in such old buildings shows that it's not just a solution for new builds."
Bob Roddy, Managing Director
of Amber Heating